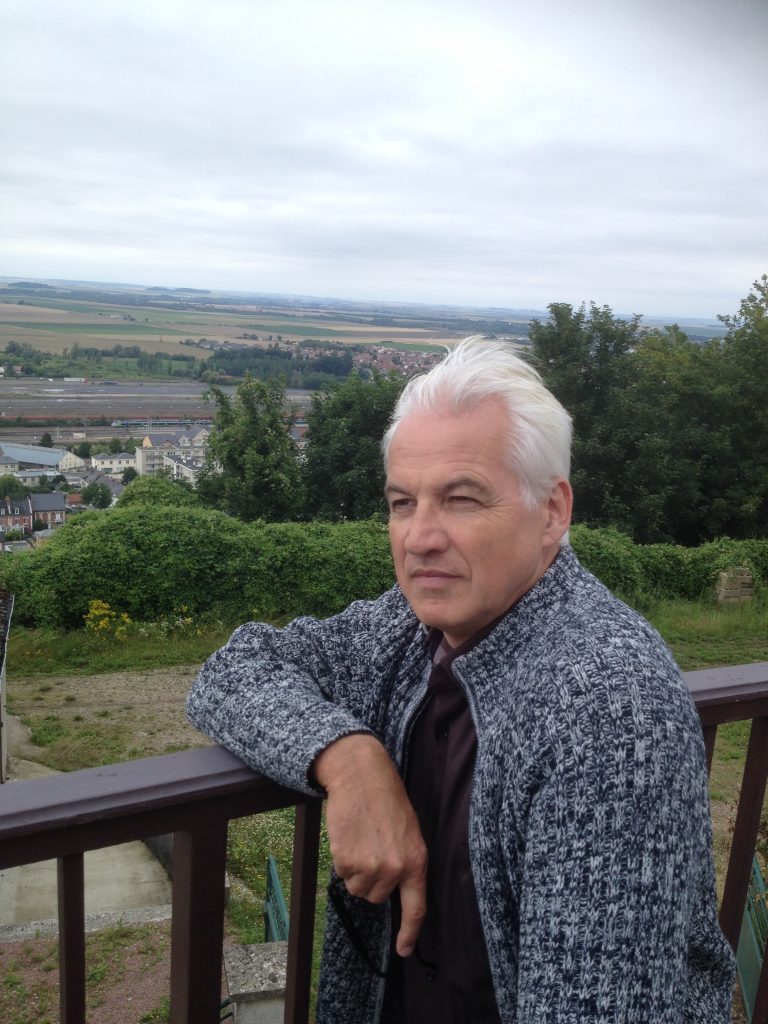 https://www.wko-heilbronn.de/konzerte/saison-22-23/4-heilbronner-konzert-blockfloeten-einst-und-jetzt/
Heilbronner Konzert – BLOCKFLÖTEN EINST UND JETZT
Mi 14.12.22, 19.30 Uhr
Harmonie Heilbronn
Theodor-Heuss-Saal
18.45 Konzerteinführung
Joseph Haydn
Ouvertüre zu "L'isola disabitata"
Antonio Vivaldi
Konzert C-Dur RV 443 für Sopranino-Blockflöte, Streicher und B.c.
Jean Sibelius
Romanze op. 42
Johann Sebastian Bach
Brandenburgisches Konzert Nr. 4 BWV 1049 für Solovioline, zwei Blockflöten, Streichorchester und B.c.
Joseph Haydn
Sinfonie Nr. 25 C-Dur Hob.I:25
Elena Kats-Chernin
Re-Inventions No. 1, 2 & 6 für Streichorchester und Soloblockflöte nach den zweistimmigen Inventionen von Johann Sebastian Bach
Chiel Meijering
"Ludwig auf Freiersfüßen" für zwei Altblockflöten und Streichorchester
Andrea Ritter & Daniel Koschitzki Blockflöte
Ruben Gazarian Leitung
Württembergisches Kammerorchester Heilbronn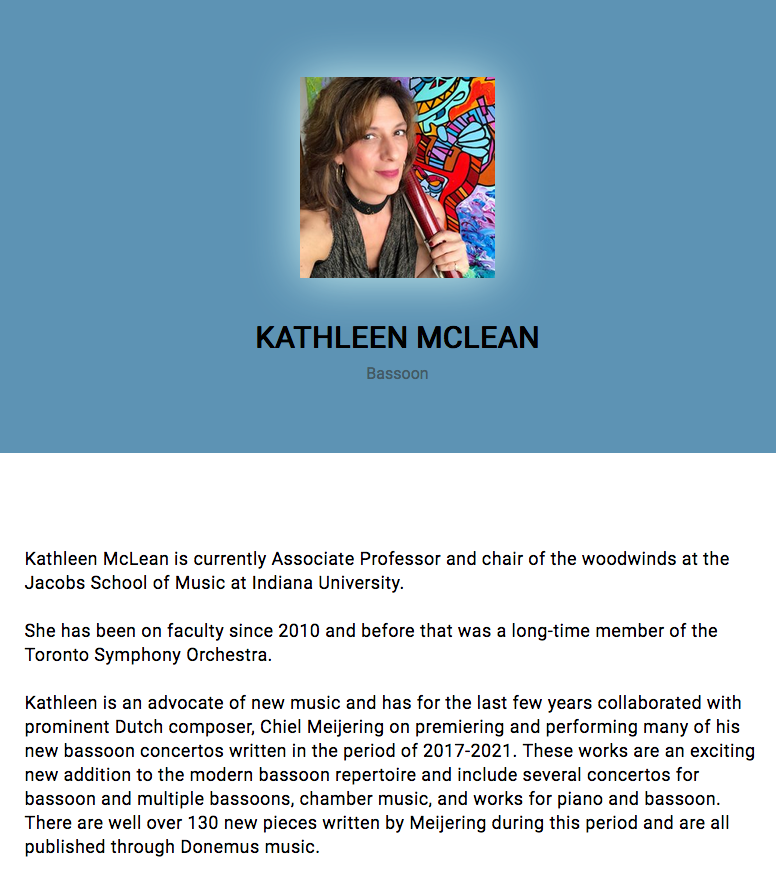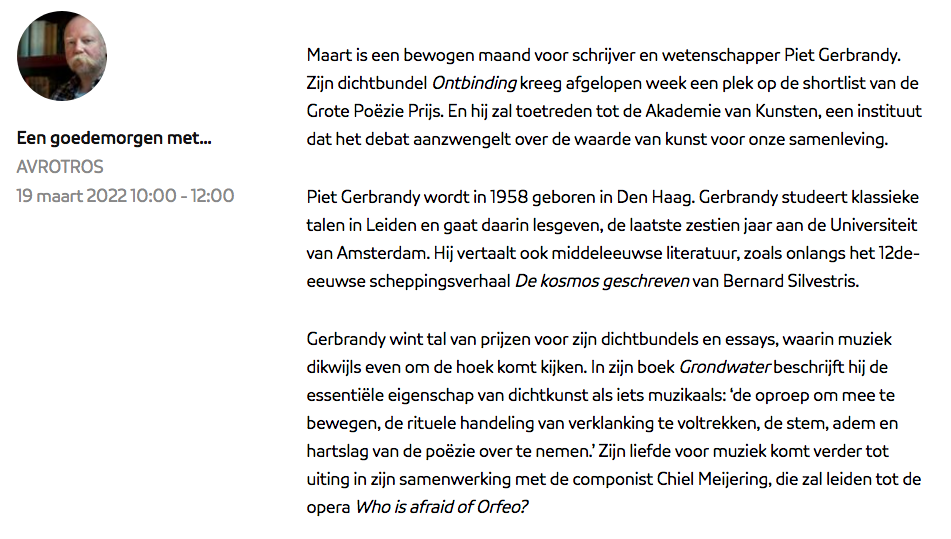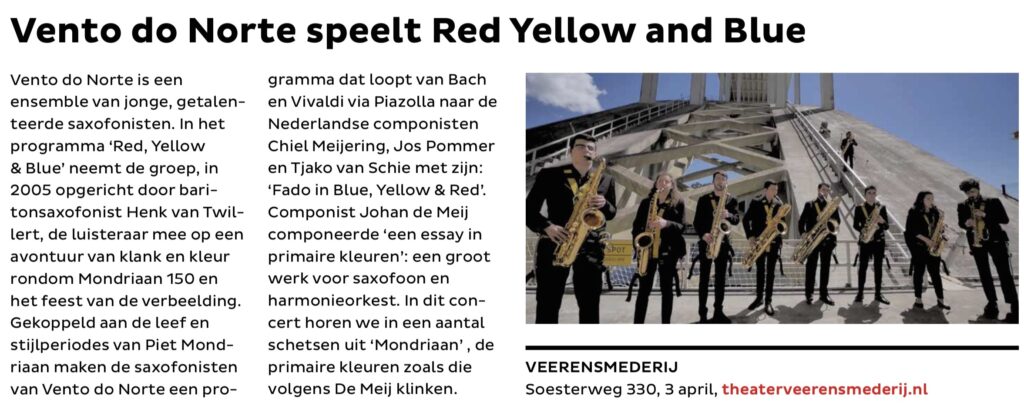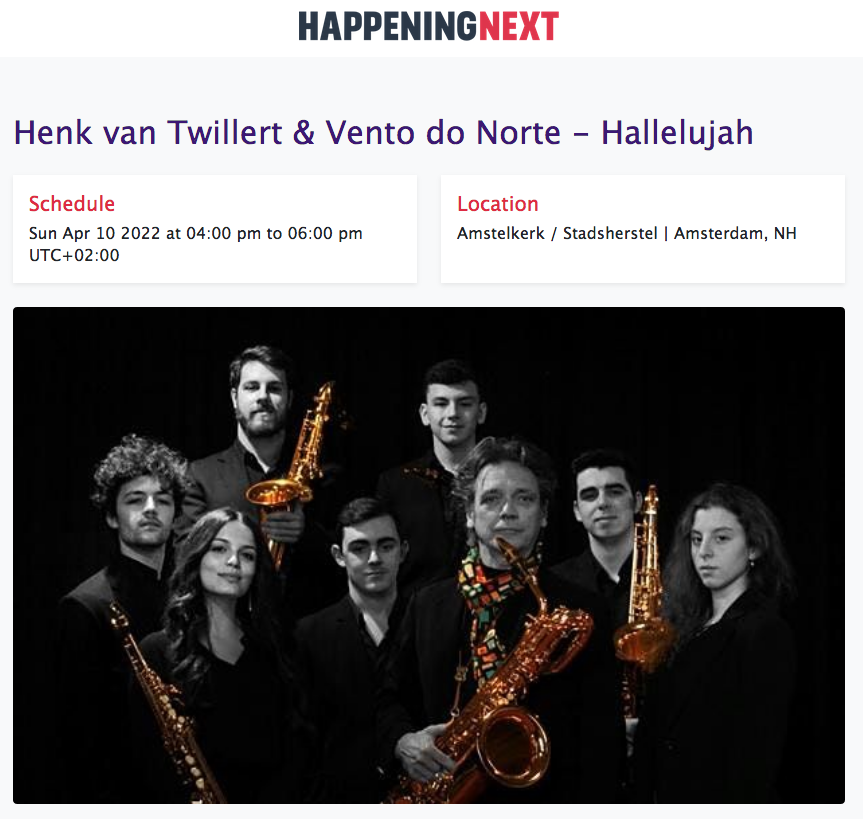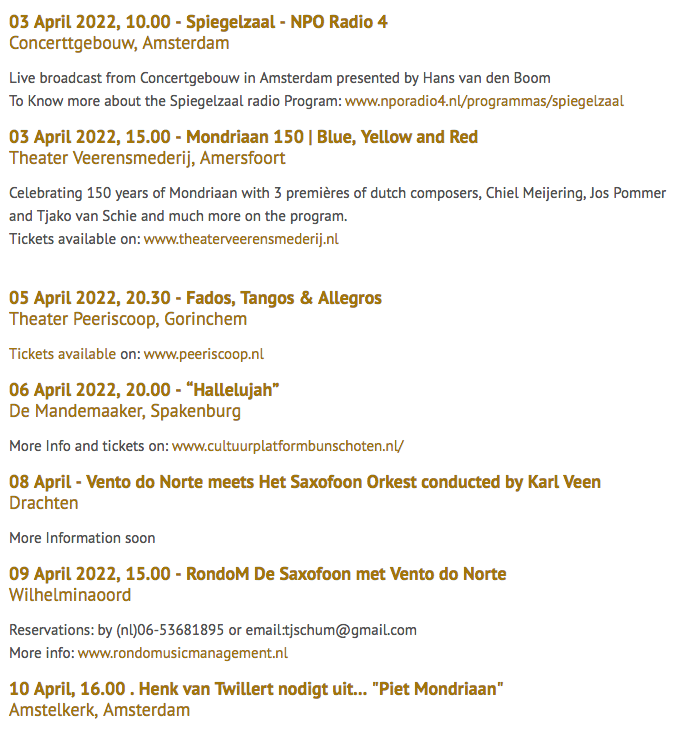 Chiel Meijering is one of today's most prominent Dutch composers, with music indiscriminately crossing the boundaries of genre and instrumentation. His broad range of works are frequently performed throughout the Netherlands and the world. Works in his vast output include such humorous titles as The zombies awake (1977), Are all Americans made of plastic (1979), I've never seen a straight banana (1988) and I like rats, but I don't like Haydn (1981).
Meijering was born in Amsterdam in 1954. His ouput is impressively large, with more than 1000 works written for nearly every instrument and instrumentation… read more
older posts: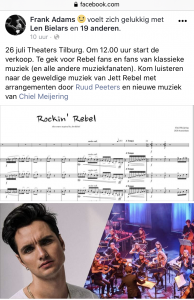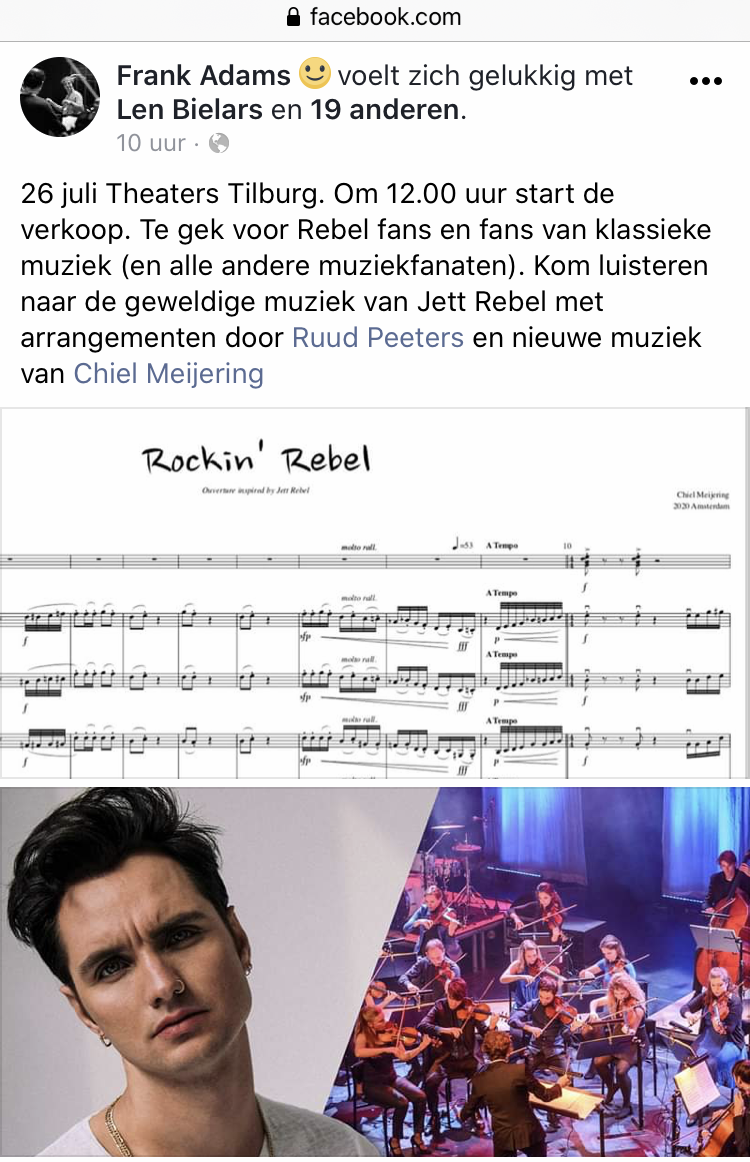 Older concerts, click on links for youtube videos
28 mei Muziekgebouw.nl/agenda/9582/Twaalf_premieres Music_for_Empty_Spaces
among other things Chiel Meijering's Happy Hours for bassclarinet and soundtrack
was performed by Vincent Martig on Bassclarinet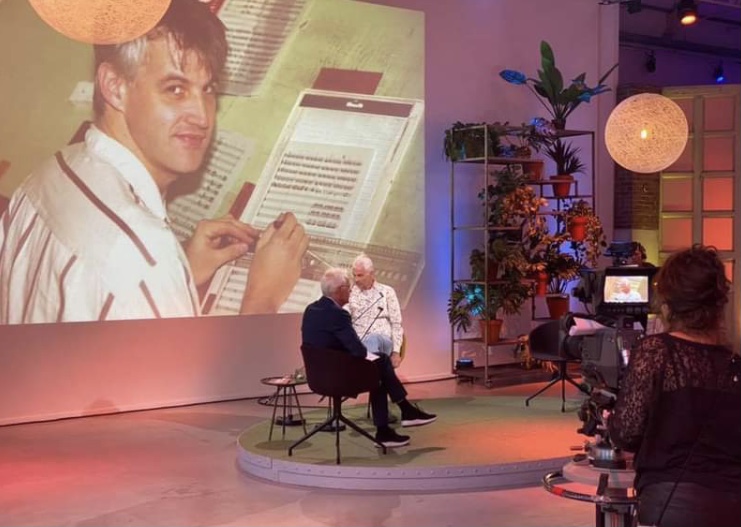 Sunday may 31, from 18.05u until 19.05u on NPO2 Podium Witteman
Matangi stringquartet_Light at the end of the tunnel ('90 second version) Youtube
Light at the end of the tunnel (full version) Youtube
Podium Witteman-Chiel Meijering at ± 15 minutes
A new stringquartet to be performed by the Matangi Quartet on TV in Podium Witteman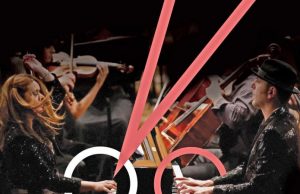 Youtube
After their debut at Carnegie Hall, LP duo (Sonja Loncar & Andrija Pavlovic) came to New York to present a US premiere of their specially designed hybrid pianos. Performing music by famous Dutch composer Chiel Meijering.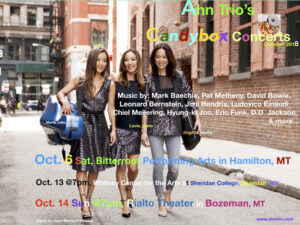 Ahn trio Candybox (Caixa de dolços): Ahn Trio on Youtube
ahntrio performs Chiel Meijering
Bassoons are coming to Auer-Hall download full article
… Chiel reportedly has composed more than 130 bassoon concertos and chamber concertos (including the bassoon) for Kathleen McLean. She traces that feat: "In the summer of 2016, I was preparing for a sabbatical recording project, and I wanted to include an international composer for the recording. I remembered that in 2010, Bill Ludwig and I performed a work
for two bassoons by Chiel at the International Double Reed Conference in Norman, Oklahoma…."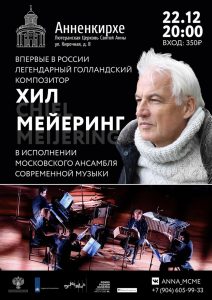 The Moskou Contemporary Music Ensemble performing in ARTPLAY ул. Нижняя Сыромятническая, д.10, Moscow, 105120, Russia
The Journey has just Begun Youtube
Dancing with Cupid Youtube
What's Right and What's an Illusion? Youtube